"THE WORLD'S GREATEST PLACES: 100 Destinations to Experience Right Now" – TIME MAGAZINE
We take inspiration from the historic dining style, Si Fang Cai or 'Private Chateau Cuisine,' which has been revitalized in the great cities of China. Si Fang Cai is a personal experience, as if you were coming into our home for an elaborate meal prepared in an intimate setting. Our tasting menu is created using the finest seasonal ingredients and is prepared with the utmost respect and care.
The tasting menu is $225 with an optional wine pairing at $125.
The Chef's Table in the kitchen is $325 and the optional beverage pairing is $225
Corkage Policy: first two bottles are $50/bottle and $100/bottle for every bottle after that. If you purchase a bottle we will comp one corkage fee.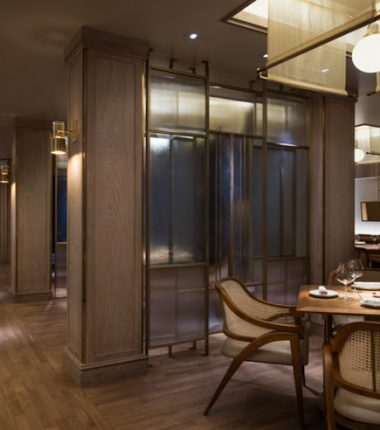 George Chen, Founder and Executive Chef
George Chen since his teens, has worked in more than a dozen restaurants before creating award winning Betelnut restaurant in 1995. Since then, Chef Chen has created and operated 16 restaurants worldwide and now is primarily focused on the entire culinary China Live experience, especially Eight Tables. Chef Chen is responsible for the creative menu development of all his restaurants and continues his mission to bring fine Chinese food to the forefront of worldwide culinary recognition.
Chi-Feng Lin, Chef de Cuisine
Chef Chi-Feng Lin is an international award winning chef, most recently winning gold medals in 2015 from both the Taiwan International Culinary Exhibition's Hakka Cuisine Competition and at the Hong Kong Culinary Classic for Modern Chinese. Prior to joining Eight Tables by George Chen, Lin was the Executive Chef for several high-profile Taiwanese restaurants while also serving as the youngest ever Executive Director of the Taiwan Chefs from 2012 – 2013.
Andrew Fuentes, General Manager
Andrew found his passion for the restaurant industry when he began his fine-dining career at The Lark Creek Inn in 2002. In hospitality for more than twenty years, Fuentes has been instrumental at guiding service at three 3 Michelin-starred restaurants and two 2 Michelin-starred restaurants in the San Francisco Bay Area, including AQUA, Cyrus, The Restaurant at Meadowood — helping the restaurant achieve the James Beard Award for Outstanding Service in 2014, COI, and, most recently, as the Assistant General Manager of the 3 Michelin-Starred Saison.